SKULLY WRIST BAND!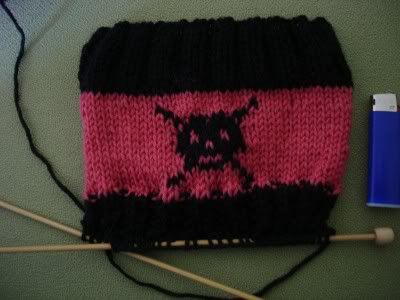 Fianlly got some photos uploaded of the Skully Wrist warmer...it's WAY too big but this was my first attempt at Fair Isle so I'd have to say it's not that bad.
So we went for Vegan food in Los Feliz last night. I'll have to say it was pretty yumm-o-rific. I got this AWESOME salad with broccoli and peanuts and avacado. It pretty much was the only thing on the menu I could eat (Hello Low Carb Diet) but I was quite satisfied. "R" got the pad thai and made the mistake of ordering it extra spicy. He made kind of a big deal about it. I think they went into the kitchen and WAY over did it just for fun.
What they brought out made his eyes water and his forehead sweat. They kept asking "Is that spicy enough for you? IS IT???" After a few bites he decided a glass of water was in order. He Finished it and said it was the second best Pad Thai he'd ever had...Go VEGAN! I got a menu they deliever....veagn delievery.
On the way back to the car we ran into those fabulous flyin' Poubelle twins (
www.deuxfilles.net
) on their way to the seamstress. They're sweet I adore them and not just because they could probably kick my ass six ways till Sunday either. Can't wait till the Next Lucha Vavoom but I don't get to drive anymore cause my Wormy Ex is in charge of that...oh well.
We went for drinks at Johnny's bar...a few glasses of wine. "R" had like 5 beers. I miss Beer. I occassionally get the Michelobe ultra lite but it's kind of like Why Bother beer.
Ok now I HAVE to get back to shaping the neck hole on the HAMBURGULARSKULLYSKISWEATER!