The view from my kitchen window
See that? That's a 34 ford Pickup truck....that is what I was looking for before I purchased the way swanky 36...god I'm jealous. Actually that is in my driveway for the moment. Our friends from Switzerland bought it on their recent trip here and actaully as I was typing this they came by to pick it up and drive it to Long Beach to ship it home....as much as I hate to see this car leave the country I am happy it is going to a good home where it will be appreciated.
Now ACTUAL KNITTING CONTENT!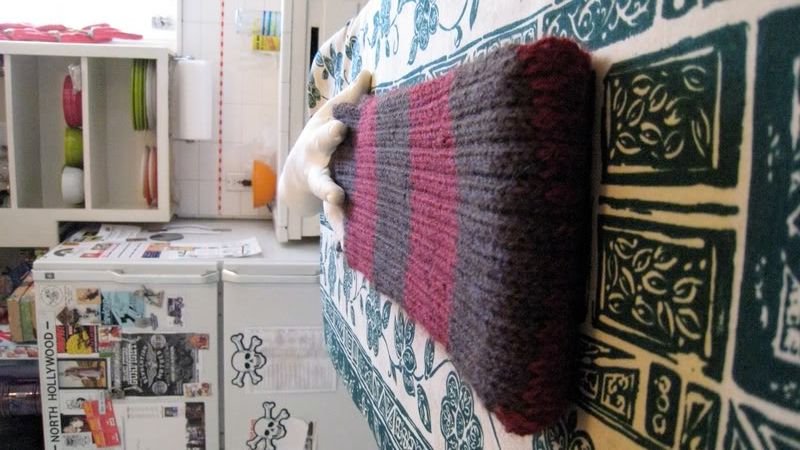 I finished washed and blocked Nick's birthday scarf....I used about 2 and a half skeins of Beracco Ultra Alpaca in rust and brown on size 5 addi turbos. It took perhaps 7 evenings of knitting plus about 2 hours of weaving in the BAZILLION ends that a striped scarf has plus I wanted to do a good job since Nick is pretty much our dearest friend in Los Angeles. I hope he likes it. I used Soak in the fragrance A Scent to celebrate which smells like roses (I know, how macho)....since I'm not gonna see Nick till Sunday for Burlesque at the Bordello I think I'll try and maybe make a matching cap from the leftover yarn.
Also I remember talking about the truck cookies but I just found actual photos of the truck cookies.
and since I'm totally photo happy today I leave you with the Riccola horn guys at Oktoberfest
Are you getting all hot and bothered yet?