Scootie!
Hey everybody! Have you met Scootie?
This is my 1978 Vespa Rally. She was Purchased 8 months ago from our friend Z...she's been sitting in the garage being in various states of broken down for the past 6 months. Ever time we fix something something else breaks...well no more. Today Scootie goes to the Scooter Doctor to find out why she starts, but dosen't run for longer thant a few seconds unless you manually feed gas into the carberator with a turkey baster...yes we did that.
So hopefully when the DSB gets home from work with the truck we're taking Scootie down to Bar Italia Classics in Van Nuys for some much needed medical attention cause...well...we have no idea what to do. I can work on a car but not a teeny piece of Italian scoot scoot. The place we're going is backed up for 3 weeks so there is a good chance Scootie won't be back till x-mas but at least she'll be back so that I can take my Motorcycle License Exam and finally be able to ride at night. So everyone (i.e. both my readers) keep Scootie in your hearts!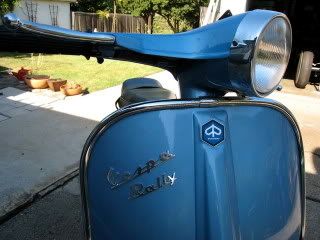 Labels: broken stuff, scooters, transportation