Bad Liver Weekend?
Not really allthough many many Beers were consumed on Sunday.
We went to my friend's annual Pumpkin Party where the beer and booze flowed like booze and beer! Our friend Justin won second place for his "Beer Goggle" Jack O' Lantern.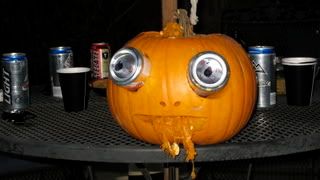 Can you feel the creativity in the air.
It was fun...we ate, drank, played DJ with everyones i-pods and watched my friends argue and ended up slicing my finger open on the brody knob of my car...dammit.
oh and I got some knitting done.
Here's a had for the Rad Bad Beanie club (aka my pre new years resolutiion is to decrease the stash)...I'm getting there I have projects set for about 2/3rds of it. All that Clip Cotton is going to be reusable grocery bags for Kubo...she said she wants some.
Also there's some serious progress on the Central Park not gonna be a hoodie. I decided to make it with a collar jst becase I want it to be a snuggle by the fire sweater and I don't think I will have enough yarn to do the hood.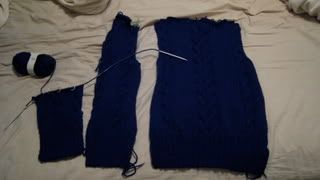 in all it's poorly lit un blocked glory!
Hooray actual knitting content!
Oooh and I got a hotel room for the Crusin Nationals! All right! Santa Maria here I come.
Labels: Beer, Central Park