X- mas is for Rocking Out!
I've been to see so many bands in the past week....
Jean Paul Yamamoto
These guys and gals serioulsy rocked it. I was outside at Safari Sams waiting for Nu-Tra to go on and I went inside to get a beer and was totally captivated by them. If you ever get the chance I reccomend seeing them.
Nu-Tra
Always a good show...do you like DEVO...then you'll LOVE Nu-Tra.
Brian Setzer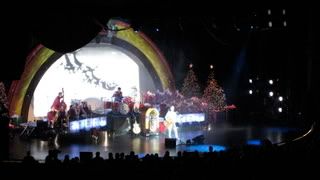 Ok so we totally scored on these tickets thanks to a good friend AM...she hooked it up with backstage passes...I got my picture taken with the Drummer....he has big hair. We also ran into a friend backstage and we chatted and drank the free beer till they turned the heat off and we were forced to leave. Brian Setzer's x-mas show is such a good time...if you have the means...GO!
I'm off to order our traditional X-Mas eve pizza and bake a Blueberry and a Sweet Potato pie. For all ya'll that have never had Sweet Potato pie believe me it's nummy...it's like a more refined version of Pumpkin Pie, requires a bit more work (You have to bake the sweet potatos first then let them cool) but it's soo good and different enough to be interesting but familiar enough that the picky eaters wil try it.....I really need to invest in actaull pie plates instead of the cheapo disposeable ones I get at How's....presentation dammitt.
I also have started a new knitting under the gun project...project Pinwheel Bankie for Star's Baby Shower...I have about 18 days to finish it before her baby shower....cast on last night...have about 11 pattern repeats but ran out of room on the DPS and have yet to fins a size 8 circ to put it on...seems like a quickish knit and it fairly mindless provided you pay minimal attention on the increase rounds. It's pretty yarn from the stash...love me a good stash buster!
Labels: Beer, Knitting, Music, Under The Gun.