Life in the LBC
So the other day I took a trip to Longbeach with a friend.
While I waited for him to pick out tires I went for a quick walk to a gas station to get a soda and I saw this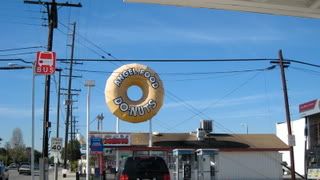 The funny thing is that this was one of 3 different Giant Doughnuts I saw in the LBC that day....I wonder what is up with all the giant doughnuts....actaully I don't want to question them for fear that it will make them die....kinda like saying one does not believe in fairies. Anyways I went to a reproduction Ford parts store in another city where I got what I needed with a side order of the "little lady" treatment. Pretty much I got the "How cute she's picking up parts for her boyfriend" treatment "You need a set of taillights? Well I don't know if those are the right ones, What kind of car does your boyfriend have?" I said he has a 31 but I'm buying taillights for MY 36....whatever.
Anyways On to Knitting
My so called scarf..ok this yarn looked way prettier in the hank but I love green and I can't return it since I already wound it into balls.....
I used to hate making scarves...I got this hight and mighty "scarves are for beginners and I am capable of so much more plus I live in L.A I don't need a scarf" bullsh*t attitude. I realised that scarves do serve a purpose...they keep the warm in and scarves are not he easiest thing on earth....scarves take much more of an investment of both time and money than a washcloth and you can get crazy with the stitch patterns with scarves. Scarves are cool plus when I'm fed up with a lace sock I can pick up my slip stich scarf and plus away while watching Intervention.