Let's review, shall we?
Went to the L.A Roadster show in Pamona this weekend and for some reason this is the only photo I took....6am and we realized that the valve covers weren't on tight enough....and that my exhaust manifold leaks like crazy. How did we find out...when the cab of the truck filled with oily smoke, awesome! Lucky for us there was a guy at the gas station across the street from the 7-11 we stopped at that had a ratchet set in his car we could use because, of course we're retards and managed to put everything BUT the tool box in the back of the truck.
Good times though. Hung out with the Shifters mostly and walked my butt off....great swap meet but didn't find what I was looking for.
Anyways.....
this afternoon I got a hankering for pizza. I decided that instead of ordering form our
local joint
, (which is damn yummy by the way) I was going to make pizza at home...start to finish, even the sauce.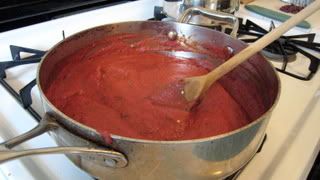 Mmmmmmmm saucy goodness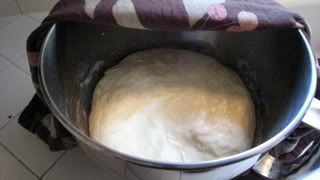 DOUGH! I totally love my kitchenaid mixer. The dough hook rocked this dough. Next time I'm going to punch it down and let it rise again so I can have a chewy crust.
I made two types of pizza, this is the pepperoni for the guys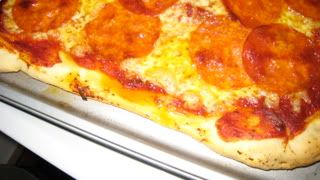 just to give you an idea how much fat was in that pepperoni...I had to blot it when I took it out of the oven but holy cow it was goooooood.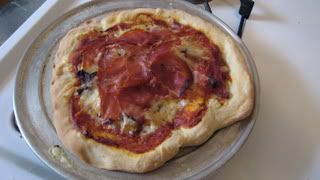 Then I made a little kalamata olive and prosciutto for me....Honestly it was sooo good but next time I'm adding some carmalized onion to the mix.
The DSB and Nick are happy freaking campers this evening.