Teeny Tiny Two Wheel Mayhem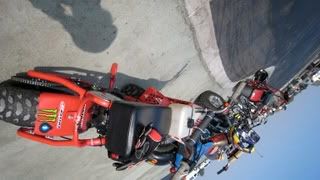 Snap bitches...look what I went to last weekend.
Yes yes I'm about a week behind with my posting but I've been ill and we had a funeral to go to this weekend so I've been a bit under the weather about the whole blogging thing. Oh but I have photos!!!!
Last Sunday we got up at 7 am to head to the MiniMoto races put on by the infamous
SFVISBF
Really, is there anything more grand that spending a Sunday morning in Sun Valley?
Oh wait...a Sunday Morning with these guys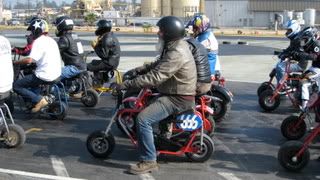 (evil Ed) I don't know him but I know this guys name is Ed.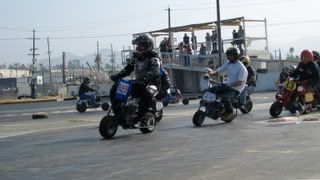 this was my fave Minibike fo the race...I dug the color.
We went with a friend of the DSB's who is like
THE Taco Minibike guy
....oh yeah....he knows his stuff. If you gotta be into something...may as well be the MASTER of it huh.
I have more photos but I'm tired and my NyQuil is kicking in.
Hope y'all are well and stuff.
Cheers
Scrapper